Care and Guarentee
Since 1902, the Price family have been cutlery pioneers. When my great grandfather founded the company, Arthur Price soon became synonymous with quality and innovation. Over a century later, you can rest assured that your Arthur Price cutlery has been designed to give you years of enjoyment. These few, simple guidelines will help to keep your cutlery in tip-top condition. Simon Price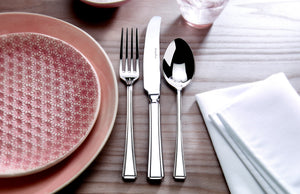 Highlight products
Repurpose your product photography with our "Indented" image option
Our care guidelines differ slightly depending on the product you've purchased. Our premium Arthur Price collections are available in silver plate and stainless steel, and the rest of our cutlery ranges are made of stainless steel.

It's a myth that silver plated cutlery is difficult to look after; ours has been designed for everyday use, and the more regularly you use it, the easier it is to care for. Why hide it away when it looks this good?

As for stainless steel, please remember that 'stainless' means it stains less, not that it won't stain at all.

Dishwashers
All of our cutlery is dishwasher safe. Simply use a gentle, good-quality detergent and make sure the rinse aid is topped up (detergents and rinse aids with lemon are not recommended).

Avoid mixing stainless steel and silver in the same basket, as this will corrode the steel.

Silver plated cutlery can tarnish after exposure to sulphur in the atmosphere and in certain foods such as eggs, fish, sprouts and vinegar. To reduce tarnishing, wash as soon as possible after use and store in a canteen. Remove tarnishing with a silver polish.

The damp atmosphere of a dishwasher can cause damage over time, so try to remove and dry your cutlery as soon as the machine cycle has finished.

Handwashing

Avoid immersing your cutlery in water for prolonged periods, as this will have
a corrosive effect.

Avoid using scouring pads or abrasive sponges, as this will scratch the surface of your cutlery.

When handwashing stainless steel, avoid using liquid bleach and ensure that detergents are dissolved, otherwise staining may occur.

Once your cutlery is washed, try to dry it as quickly as possible using a soft cloth.

Polishing

For silver plated cutlery, we recommend a quick polish every few months to keep your purchase in tip-top condition, but would NOT suggest using silver dips. Our Easy-Care range, including polish, a cloth, foam, and mitts is designed to
help minimise the effort required to care for your cutlery.

Do not clean stainless steel with silver polish, as it is too acidic. A good stainless steel cleaner can be used to remove marks that may develop over time.


Please remember that silver is a soft metal and its surface will gradually mark over time. This will evolve in to a soft, mellow appearance known as patination, which gives antique silver its extraordinary lustre. Regular use will help it to mature and continue to improve with age. A good tip is to try and use the pieces in rotation so the set matures evenly.

Customer Guarantees

We use the highest quality materials for our cutlery, and are confident in the quality of everything we produce. In the unlikely event of a defect arising
from any faulty workmanship or raw materials, we promise to replace any faulty items absolutely free of charge, provided the care guidelines listed here have been followed, and there has been no misuse or accidental damage.

Arthur Price of England sovereign silver plated - Lifetime guarantee

Arthur price of England sovereign stainless steel - Lifetime guarantee

Clive Christian ranges - 50 year guarantee

Arthur Price Signature ranges - 50 year guarantee

Arthur Price Everyday Classics ranges - 50 year guarantee

Arthur Price Kitchen - 25 year guarantee

Laurence Llewelyn-Bowen collection - 50 year guarantee

Sophie Conran collection - 50 year guarantee

Monsoon ranges - 50 year guarantee